In 1986, the Isuzu brand began its longstanding tenure as the best-selling low cab forward truck sold in America. Then in 2007, Isuzu Finance emerged as Isuzu Commercial Trucks' trusted source of financing. But where did the legacy all start?
Nearly a century ago, the originators of Isuzu Motors Limited built their first truck in Japan. 17 years later, the diesel engine – Isuzu's signature product – was born.
It wasn't for another 23 years until the world's first low cab forward (LCF) truck was introduced by Isuzu Motors Limited in 1959. This light-duty, 2-ton vehicle is the predecessor for today's N-Series model, and set the bar for Isuzu's dedication towards quality and efficiency. What developed into the N-Series soon became a global phenomenon, exceeding five million units produced across 100 countries in the years since.
In 1984, Isuzu trucks finally made its way to the United States, with the unveiling of the KS22 (pictured below). While nothing flashy by today's standards, the KS22 became a hit with American consumers for its durability, maneuverability, and low cost of ownership.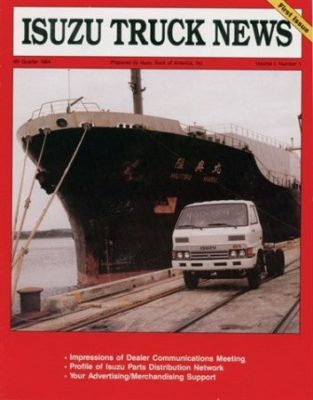 Although the low cab forward style truck didn't emerge in the United States for a number of years, the Isuzu brand eventually grew to the leader in the U.S, dominating 80% of the market in under 30 years… that's 8 out of every 10 LCF vehicles seen on the road today! To date, over 500,000 Isuzu trucks have been delivered in North America.
Other Notable Milestones:
2010: Isuzu N-Series released as the first EPA compliant, clean-idle certified medium-duty LCF
2011: Isuzu begins production on its N-Series Gas model
2011: Domestic production begins on the Isuzu Reach, a revolutionary walk-in van
2012: Isuzu Reach named "Medium-Duty Truck of the Year" by Work Truck magazine
2013: Isuzu N-Series named "Medium-Duty Truck of the Year" by Work Truck magazine
2014: Isuzu truck's 30th anniversary in the U.S.
For more information on Isuzu Commercial Trucks of America and the history of the Isuzu brand, visit: https://www.isuzucv.com/en/news/history_us.